Spacial heeft een nieuwe versie Sam Broadcaster uitgebracht dit is v. 2014. Wij hebben deze al in gebruik. De belangrijkste wijzigingen voor versie 2014 zijn:
Nieuwe encoder Lame (laatste versie)
Verbetering check muziek bestanden (snelheid) en geheugen gebruik
Veel SamVIBE veranderingen
Helaas echte belangrijke dingen zoals een kalender voor het programmeren/overzicht van shows zitten er niet in. Ook aan de lastige PAL script is niets aan veranderd.
Sam Broadcaster 2014 is bij ons te koop op naam voor 225,- euro excl. BTW.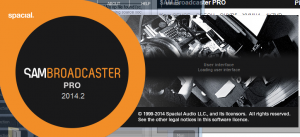 Upgraden gaat alleen via de user zone (webpagina) van spacial.
Hieronder de wijzigingen per versie (Engels):
-v2014.2 (29 May 2014)
* Improve PAL IDE GUI
* Fix Voice Over crashes when playing at end of file
* Fix non-alphanumeric errors in Amazon Album cover searching.
* SAMVIBE Broadcast Control Switch on Track Change support added.
* SAMVIBE Broadcast Control Window GUI improvements and visual cues added.
* SAMVIBE Broadcast Control Window GUI allow Broadcast Mode changes.
* Better handling of SAMVIBE messages.
* Bug fixes in Auto Updater
* Restart encoder when we are "Unable to send data fast enough"
-v2014.1 (16 April 2014)
* Fixed disapearing image display crash in Windows XP SP2, SP3
* Improved Verify Tracks speed and memory usage.
* Added SAMVIBE API Live Switching/Live DJ.
* Added Air Light Indicator Window.
* Upgraded Lame encoder to latest version.
* Clockwheel Location indicator in Clockwheel editor.
* Updated About/Splash screens.
* Allow DJ/Username in Icecast2 and SHOUTcast2 encoder configs
* Spruced up GUI
* Removed Tip of the Day
* Fix Wowza statistics relay breaking when no label is specified for mount.