Dit is een handleiding voor het live-streamen (SHOUTcast) met de gratis winamp player en DSP plugin.
Er zijn natuurlijk nieuwere alternatieven zoals Sam Broadcaster en ProppFrexx on air. Zie hier nog meer encoder alternatieven.
Let op je hebt hiervoor een SHOUTcast account nodig, deze krijg je na de bestelling.
1) Download hier de laatste winamp player
2) Installeer de Winamp player
3) Download de DSP plugin https://www.live-streams.nl/downloads/shoutcast-dsp-2-3-2-windows.exe
4) Installeer de DSP plugin voor Winamp
5) Start Winamp en klik op "Options" en dan op "preferences" of CTRL-P als Winamp gestart is
6) Zie scherm afdrukken hieronder:
7) Er verschijnt een nieuwe window zoals hieronder.
Klik eerst op tab Connection en vul alle gegevens in zoals "Address", "port" nummer en wachtwoord, zie hieronder
. (Bij address vul je je gekregen DNS naam of Ip adres)
**** LET OP! Zet een vindje voor use SHOUTcast v1 mode (for legacy servers)
8) Klik op "yellowpages" button en vul de gegevens van uw streaming station in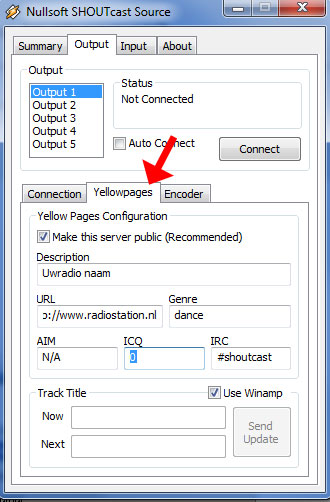 9) Kies streaming kwaliteit
10) Start de stream
11) controleren of de stream werkt, dit ziet u nadat u op connect heeft geklikt

12) Start een nummer op uw winamp player en u bent on air!
Ga naar uw status pagina van shoutcast die u van ons heeft gekregen https://uwnaam.live-streams.nl:8000/
U kunt daar diversen dingen bekijken zoals aantal luisteraars, piek, luisteraars etc.