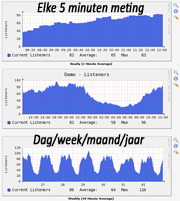 Icecast streaming media server is a product comparable to SHOUTcast. You can stream the following formats with Icecast v2:
mp3PRO
AAC+ (KH)
OGG
MP3
FLAC
OPUS
Why Icecast and not SHOUTcast?
1 account can deal with multiple streams (depending on config and wishes)
IPv6 streaming support
Icecast SSL/HTTPS streaming
Screened statistics (status page). Nobody can see how many listeners you have
Fallback setting (for back-up/live events). See the diagram at the bottom of page
Pay-for-play, create/manage listening accounts in the icecast control web interface

Offer (able to listen to anywhere) with free web player

| | |
| --- | --- |
| 50 slots on 192 Kb/s | € 25.00 a month |
| 100 slots on 192 Kb/s | € 42.00 a month |
| | |
| --- | --- |
| 50 slots on 320 Kb/s | € 35.00 a month |
| 100 slots on 320 Kb/s | € 55.00 a month |

Order                 Need Auto DJ? Click here
Why choose live-streams for Icecast v2 hosting?
Very high quality servers (HP) in the best network/data centre in Europe
Years of experience of Icecast streaming with Linux (since 2006)
High uptime 99.99%
24/7 emergency number and during office hours technicians are present in DC.
Free and unlimited support (phone support)
Graphical statistics, every 5 minute monitoring per day, month and year
Flexible adjustment of slots on stream
Quick setup of radio stream, often within one workday
Your listeners don't have to download any plug-in to listen to our streams.
Opportunities to try first
Mailing list, stay automatically informed of maintenance and activities
Gratis sub-domain http://yourname.live-streams.nl
Terms and Conditions of streaming icecast:
Minimum 20 downloads per stream.
Prices are per month and exclude VAT.
Invoicing for streaming is a month in advance.
If the total streaming amount is under 10 € per month it will be charged automatically on a two-monthly basis.
You can terminate the contract at any time after the first 2 months.
You are solely responsible for the content of your stream and you must be responsible for notifying Buma Stemra and Sena.